The Process
I follow a process to ensure we have a disciplined approach to financial management. I try to avoid emotional reactions that can be sparked by the inevitable ups and downs of economic cycles during our lifetimes. My process creates a comprehensive, rational action plan for you based on the facts of your financial situation, but focused on achieving deeply-felt and important life goals for you and your loved ones.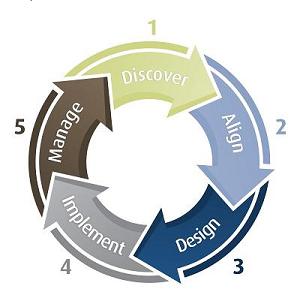 Step 1: Discover
In the first step, I want to learn what you hope to accomplish. I want to understand your tolerance for risk, your stage in life, and your experience with different types of investments. I gather information on your complete balance sheet of assets and debts to form a starting point on this journey.
Step 2: Align
In the alignment phase, I evaluate the current distribution of your assets among the various financial products available to you (cash funds, insurance, investment portfolio, real estate, limited partnerships, etc.) and make recommendations on re-balancing your allocations based on your situation, goals, and risk profile.
Step 3: Design
Once I fully understand your situation and have re-balanced your current distributions, I construct a well-diversified investment portfolio for you. I contact your other key advisors as appropriate and determine the best mix of services to round out your holdings. The final plan is presented to you for input and approval.

Step 4: Implement
Once the recommended plan receives your input and approval, I begin the implementation phase of our process. I begin building your portfolio, placing funds in the various investments and transferring any assets to be moved.

Step 5: Manage
Once your portfolio is set up, I will monitor your assets and make adjustemnts as needed to stay on course with your overall plan. As your steward, I am focused on watching over and taking care of your assets, so you can feel confident you are progressing steadily towards your goals, year after year.